ZoukFest Information & Important Links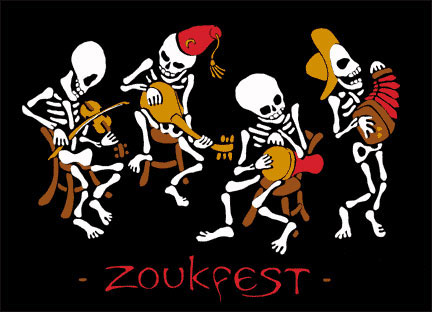 What is ZoukFest?
1998 and 1999, Roger hosted the first international gatherings devoted to the Celtic bouzouki, "ZoukFest", in Weston, Missouri. Since then, ZoukFest has grown in scope and taken place most years in northern New Mexico. ZoukFest 2005 World Music Camp was held at the beautiful Ghost Ranch Retreat Center near Abiquiu, NM. More recent ZoukFests have been held at the College of Santa Fe (now the Santa Fe University of Art and Design), and the University of New Mexico in Albuquerque. ZoukFest 2012 features a Traditional Irish Music Weekend and will take place June 7-10 at Santa Fe University of Art and Design. (To jump directly to the ZoukFest site, just click here. )
From a statement by Roger, founder and director of ZoukFest: " ZoukFest is a 501(c)3 non-profit arts and education organization, recognized with the highest level of tax exemption by the IRS just like any church or school. The instrument raffle is a fund-raising activity of our organization and the money goes into our general fund to help cover the cost of putting on the ZoukFest World Music Camp, sponsoring artists in area schools, producing instructional videos and DVDs, and promoting concerts."
ZoukFest Email Group
That's http://launch.groups.yahoo.com/group/ZoukFest/ for lots of interesting info: staff interviews, instructional materials, etc., as well as lots of fun discussion centered around ZoukFest with past, present and future attendees and staff.