The Janissary Stomp | ¡Radio Free Bassanda!
Solo Programs
"The Janissary Stomp" Duo w/ Chipper Thompson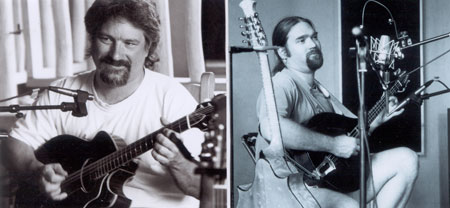 "Taking their inspiration from Celtic, Spanish, Greek, Turkish, Arabic, Breton, African, Appalachian, Mexican, Medieval European and Gypsy music, as well as Swamp Blues, Napoleonic ballads and the American Civil War, Landes and Thompson range through a selection of original and traditional pieces, each with its own unique story – a journey through a richly varied soundscape, like an exhibition of 'sound paintings' or a series of short films only the ear can 'see.' "
Homer St. John Yoknapatawpha Howlsman's Quarterly
Official Stomp Site! www.janissarystomp.com >
Roger Landes & Chipper Thompson bios (MS Word, 28 KB): download >
Janissary Stomp information ( MS Word, 32 KB): download >
"¡Radio Free Bassanda!" w/ Chipper Thompson & Ben Wright
Music from the Balkans, Middle East and Mediterranean in quartet format, consisting of plucked and bowed strings with percussion and double bass.
Roger Landes—plucking (oud, lavta, laouto, buzuq, Irish bouzouki, Greek trixordo bouzouki, cümbüs, saz, sintir)
Chipper Thompson—hitting (zarb, dumbeq, darabukka, bendir, doira)
Ben Wright—double bass.
Repertoire ranges from medieval European instrumental works to traditional and classical material from North Africa, the Middle East and Balkans, including new compositions drawn on the various modal traditions within those regions.
Back to Top

Each of these solo programs can be either a recital, lecture/demonstration or a combination of the two. Roger often conducts pre-concert talks or post-concert Q&A sessions, depending on the needs of presenters. Some blending of the usual roles of performer and instructor is encouraged as it particularly suits Roger's capabilities and enhances the audience's experience to learn about the music and its instruments, history and personalities.
"Give it a Lash!" - Recital of Irish traditional dance music, airs & song on bouzouki, mandolin, guitar, mandocello, tenor banjo, bodhran, whistle, and voice.
"A Garden of Roses" - Solo recital of music and poetry from the Balkans, Middle East and Mediterranean on various plucked and bowed string instruments, percussion and voice.
"Answer the (Chordo)phone!" - Recital/Lecture-Demonstration of string instruments (chordophones) from five continents. Most suitable for college level music and humanities students but easily adaptable for middle and high school programs. Special grade school programs are available. Roger is happy to provide a listening guide for classroom use prior to his performance.
Irish bouzouki, mandolin, mandocello and tenor banjo
Greek trixordo bouzouki
Arabic 'ud and buzuq
Turkish/Greek lavta
Cretan laouto
Persian setar
Afghan rebab
Turkish cümbüs, tanbur cümbüs, baglama saz, and cura saz
Moroccan sintir
African/American fretless gourd banjo
5 string banjo
Uzbek dutar
yayli banza (bowed gourd banjo designed by Roger Landes)
Stroh violin