Bio | Reviews | Radio Interview (Audio File)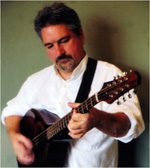 Of ZoukFest founder and director Roger Landes, Celtic Heritage Magazine said: "Not only is Landes helping to legitimize the instrument -- he is taking it to a whole other level." Roger took up the bouzouki in 1981 and quickly set about learning Irish tunes, playing tenor banjo, mandolin, bodhran and uilleann pipes; as well as co-founding the popular Celtic band Scartaglen. When that group disbanded after a decade, he decided to concentrate on exploring the melodic capabilities of the bouzouki. His critically acclaimed CD Dragon Reels is the result of his work mastering the intricacies of Irish traditional music. Since releasing Dragon Reels in 1997, Roger has produced several recordings for other artists, performed in a duo with singer Connie Dover and recorded The Janissary Stomp, a collection of mostly original duets for two bouzoukis with folk and roots musician Chipper Thompson. In 1998 and 1999, he hosted the first international gatherings devoted to the Celtic bouzouki, "ZoukFest, " in Weston, Missouri. Late in 1999 he relocated to Taos, New Mexico, where he maintains a busy schedule performing, producing, composing and organizing ZoukFest. Roger appeared in and contributed to the soundtrack of the 1999 film Ride with the Devil, directed by Ang Lee (Crouching Tiger, Hidden Dragon). He has appeared on the National Public Radio shows Mountain Stage and A Prairie Home Companion. In April 2001, his music was featured in a PBS documentary, Last Stand of the Tallgrass Prairie. In October 2002, Roger joined Galician piper and Chieftains alumn Carlos Nuñez in his first US tour, and in December of that year he toured in a trio with Irish fiddle phenom Frankie Gavin (De Dannan) and harmonica virtuoso Rick Epping (Pumpkinhead). In April of 2004 he had the pleasure of accompanying legendary Irish fiddler Tommy Peoples (Bothy Band) for a week of concerts during Tommy's first visit to New Mexico.
Roger has most recently been performing Irish traditional music in a duo with fiddler and guitarist Randal Bays. Their new live CD House to House was released in September of 2004.
Back to Top

Reviews: House to House | The Janissary Stomp | Dragon Reels | Other (production & arranging)
From a column by the Irish Times' Siobhan Long naming House to House to the Top Five Trad Albums of 2005:
American duo Randal Bays and Roger Landes took centre stage with not so much as a spotlight to surprise and delight with their fiddle and bouzouki duet, House to House. At a sufficient remove from the origins of the music they evidently love, Bays and Landes inhabited the tunes with a refreshing vigour, and their insistence on retaining the personality of the live recording, replete with foot taps and squeaky chairs, only added to the technicolour of the collection.
Back to Top

By Dennis Stone of Folkworks.org:
Artist: ROGER LANDES & CHIPPER THOMPSON
Title: THE JANISSARY STOMP
Label: RADIO FREE BASSANDA AUROPHONIC DISC & TALKING ENGINE CO. CAT. NO. 346297
Release Date: AUGUST 2001
In March of this year, FolkWorks had the honor of hosting a great concert by Irish fiddler/guitarist Randal Bays who was accompanied by Irish bouzouki/guitarist Roger Landes. After the show Roger handed me his new CD to check out, but it sat around for weeks before I had a chance to sit down and listen. Finally, late one evening, I put on the headphones and those headphones remained glued to my head until the entire CD was finished. It's always a challenge to find music that intrigues, moves, and inspires me. It is also a challenge to present my readers with rare gems of a quality that are hard to find but worth the effort to seek out. One of those rare gems, and the CD at hand is: The Janissary Stomp by Roger Landes & Chipper Thompson.
Roger Landes is from Jackson County, Missouri. He played roll-n-roll guitar in school garage bands, then took up classical guitar in 1979 in college, learning the repertoire quickly and soon teaching it full time. His interest shifted from 19th and 20th century compositions to early works from the Renaissance and Baroque periods, to European dance music of the middle ages. When he first heard the Chieftains playing traditional Irish music, he recognized the close similarity in melody and rhythm structures between medieval and modern traditional music. His instincts then led him to the 10-string cittern and eventually to the Irish bouzouki while learning the intricacies of Irish and Scottish dance tunes and accompaniments. In 1982, Roger helped form the popular Celtic group Scartaglen, which recorded three albums before they disbanded in 1994. In 1993, with Scartaglen, Roger contributed one track to the best-selling Narada collection, Celtic Odyssey, which stayed on the Billboard Magazine charts for almost two years. This CD brought Scartaglen, Roger, and fellow Scartaglen alumnus vocalist Connie Dover to greater public awareness and remains one of the best Celtic music compilations available. After the disbanding of Scartaglen, Roger and Connie Dover performed with the short-lived group Glenfire, and then as a duo since 1995. Roger has also lent his talents as producer for ex-Scartaglen member Michael Dugger and for Chris Crotewohl. He recorded his first solo album, Dragon Reels, independently in 1997. Now considered a pivotal Irish bouzouki release, it was re-released on the Dorian record label in 2001 to a nation wide market. Commenting on this album and the Irish bouzouki, Cliff McGann with the publication Celtic Heritage wrote: "Not only is Landes helping to legitimize the instrument, he is taking it to a whole new level…I am in awe of his command of the instrument." Another of Landes' projects is Zoukfest, an international festival devoted to the bouzouki. In 1999, Roger relocated from Missouri to Taos, New Mexico, where he has recorded with bouzouki player Gerald Trimble. Roger is now considered a leader in bringing the Irish bouzouki from its role as an accompanying rhythm instrument to a lead and solo instrument.
Chipper Thompson was born in Athens, Alabama, but grew up in the heart of the Tennessee Valley, which he calls "a microcosm of the Old South." He took up electric bass guitar in college, and accompanied his father--a talented pedal-steel guitar, dobro, and dulcimer player--at bluegrass and dulcimer festivals. Always a lover of Appalachian folk music, with its Irish-Scots roots, his curiosity about the world led to his research in songwriting, global ethnic folk music, classical music, blues, and rock-n-roll. Chipper now plays guitar, bass, mandolin, bouzouki, dulcimer, banjo and several hand percussion instruments such as the bodhrán. After a variety of jobs and several months in Europe (where he spent many nights playing in traditional pub sessions on the west coast of Ireland), Chipper married and moved to northern New Mexico. Since then, Chipper has honed his songwriting and performance skills at small gigs and open mic sessions in Taos. In 1997 he formed his company, Banjosnake Music, and released his first CD, Strange Lullabies. In 1998, his second CD, Folk-n-Roll Live, followed in the footsteps of his first release with a diversity of folk, rockabilly, bluegrass, powerful emotional ballads, and vocals, plus eleven original pieces penned by Chipper. His latest CD, Am I Born To Die (recorded with his newest musical partner, singer and multi-instrumentalist Mason Brown) showcases his deepest roots: the traditional songs of Appalachia and their roots - ancient songs from the British Isles.
The Janissary Stomp was originally released in limited edition at Zoukfest 2001. It has a unique paper package with extensive and informative liner notes on each track. But even more unique is the music, a global ethnic folk, Appalachian folk, Celtic, and early music merging experience. And boy does it work! Both Roger and Chipper play only bouzouki on this CD, accompanied by Paddy League on percussion and Mason Brown on bass violin. Chipper lends his voice on two tracks. The CD title refers to the elite "shock troops" of the Ottoman Sultan, and was suggested by the intense, eastern tenor of the music they wrote for this project. But this CD is much more than that. The soundscapes heard will take you on an audio journey to Ireland, Scotland, Celtic Brittany, Mexico, medieval Spain, Europe of the middle ages, the Middle East, the Balkans, the Appalachians, and the sun soaked mountains and deserts of New Mexico. It is a beautiful celebration of our global folk heritages. Highlights are difficult as each track is a long story in itself. The entire package is a genuinely moving experience, but if I had to note stand-out tracks, they would be: Banks of the Nile with its Middle Eastern-like intro and ending (plus great vocal by Chipper), the merging of medieval Spain and early New Mexico on Los Penitentes that leads into the joyous, almost child-like Emergence. This track is followed by the medieval/Breton/Arabic/original set Lamento di Tristano/de Trilport/taqsim di Tristano/The Arrival of the Khevsoor in Tiblisi. The Burned Letters, written by Chipper about personal loss, is a sad and melancholy piece balanced by the following upbeat, sick and humorous The Guanajuato Mummies' Farewell to Budapest and the equally humorous and Latin flavored tribute to a famous ragtime band called Quando Los Santos Entren Marchando. Roger's arrangement of the Irish March of the King of Laois is enchanting, and equally mesmerizing is the Greco-Turkish flavored Los Dervisomangas followed by the Macedonian tune Jovano Jovanke. A rousing arrangement for bouzouki of Asturian and Galician dance tunes may be a first. Chipper's Celto-Appalachian Whippersnapper Snake/Snake Road features his second vocal. The CD closes with two great instrumentals, the last being an Arabic-Mississippi Delta Blues-Celtic-Appalachian set called Taqsim"Tigrissippi/Threshold/The Janissary Stomp. All in all, The Janissary Stomp is a great album for those who embrace a successful merging of global folk music and styles that borrow from their modern and ancient forms. A very excellent merger, and another album of note for the bouzouki.
More info on Chipper Thompson is at www.folk-n-roll.com.
Back to Top

By Cliff McGann (Celtic Heritage, August/September 1997)
Hailing from Jackson County, Missouri it might seem a bit odd that Roger Landes would be bitten by the Celtic bug. His interest in classical guitar led to Baroque and Renaissance music and finally, upon hearing the Chieftains, to his present love for Celtic music...
In 1982 he helped found the Celtic music ensemble Scartaglen, which released three recordings and were featured on the popular Narada Records collection Celtic Odyssey... Since then he has focused his efforts towards furthering the bouzouki's role as a melody instrument. Not only is Landes helping to legitimize the instrument he is taking it to a whole new level. As a bouzouki player myself I am in awe of his command of his instrument. His use of triplets at free will illustrates not only his prowess but also his understanding of the complexities of Irish/Scottish music and his ability to translate fiddle and pipe music to the bouzouki...
The recording also features a set of flatpicked tunes on guitar as well as "Storm-stayed at Grady's," a nice set of tunes on the mandolin which begins with a composition by PEI fiddler (Paul G.) MacDonald. Easily a member of my top ten list for this year.
---
By Rick Anderson ***1/2 (College News Service)
…Roger Landes is an exceptionally tasteful bouzouki player who is joined on this album by host of fine American musicians, including John Whelan on accordion and the marvelous singer Connie Dover. The program is comprised of tunes both old and new from America, Ireland and Cape Breton. All of the playing is lovely and Landes' compositions are scarcely distinguishable from the traditional numbers; his adaptations and arrangements are also superb, and he plays with an easy virtuosity that never calls attention to itself. Highlights include "Storm-stayed at Grady'," a set of reels that features the playing of banjoist Chris Grotewohl, and the minimally-accompanied "Murphy's Nails." Highly recommended to fans of Irish music.
---
By David Marcus (Atlanta Celtic Quarterly, March 1997)
Soaring Bouzouki **** Dragon Reels: Roger Landes, bouzouki, guitar, mandolin; with John Whelan, accordion; Zan McLeod, guitar; Connie Dover, vocal, keyboards. Ranger Music RMCD 4321; 12 tracks, 52'04".
About the only thing I don't like about this album is that it is over too soon. A friend of mine dropped this off for me to listen to. A week later, I was still listening. (I do plan to return it, but only when I get my own copy.) In other words, this is a five-peach, grade A+ premiere solo album from the founder and 12-year member of Scartaglen, with very traditional music played on an instrument that is new (for the last 30 years, anyway) to Irish music.
When Gerald Trimble introduced the bouzouki to the world as a lead instrument that could sustain an entire album (in his 1983 First Flight), he played with a style taken from the tenor banjo and mandolin and he played with a solo-with-backup feeling rather than a lead-in-a-band feeling. Roger, on the other hand, plays with the energy, rhythm and complexity of a fiddle player, a piper, or a box player. He says his goal as a bouzouki player is to create a "natural and authentic style which is idiomatic to the instrument" in the context of being the lead player in a traditional ensemble. His style is dark and somewhat dense but still crisp and lively. The recorded sound is very very true to the instrument, and complements the style superbly.
Although some of the music is newly-composed, this is a traditional album. It includes several tunes from Cape Breton and Prince Edward Island but is based in the Irish and Scottish traditions with familiar tunes such as Castle Kelly, Martin Wynne's #2, Tam Lin, Tom Billy's, and Farrell O'Gara. John Whelan on button box adds nice contrast to the string instruments and singer Connie Dover, a frequent performing partner of Roger's, contributes a clean, light and sexy version of The Devil and the Farmer's Wife, sounding as delightful as I've ever heard her. This album is a must have...
---
By Sharon Goldwasser (Crossroads, August/September 1997)
The title, Dragon Reels, is surely a clue-this is an album that passes into a realm outside of the ordinary. The album showcases the bouzouki wizardry of Roger Landes, former member of the now-disbanded Celtic music group, Scartaglen.
Since its introduction into the Irish music in the 1960's, the Greek bouzouki has often been used for chordal accompaniment. Here, Roger Landes recasts it into a powerful melodic role. Deeper and more robust than a mandolin, with a percussive, almost gritty edge at times, its voice is lower than typical melody instruments such as fiddle or flute. Led by the bouzouki, these arrangements of traditional Irish, Cape Breton and newly composed tunes take on a striking and unusual texture that sets them apart from many other interpretations of fiddle tunes. Parts of Dragon Reels seem to naturally lean to darker, modal melodies, for example the jig "Johnny the Jumper." There are contrasting light moments-a stately slow air on guitar, an uplifting version of Kitty's Wedding and unexpected rhythmical twists and turns like those in the reel Tamlin. Joining Roger on this album are guitarist Zan McLeod, John Whelen on accordion, and Connie Dover on vocals and keyboards. Former Scartaglen members Chris Grotewohl, Mike Dugger and several other talented musicians contribute, as well. This is a refreshing and well-played collection of traditional music with unique punch.
---
By Dan Willging (Dirty Linen , August/September 1998)
The 10-string Greek bouzouki is a fairly recent addition to Celtic music, having been introduced only a generation ago by Johnny Moynihan and Andy Irvine. Whereas the bouzouki is often used for accompaniment, Roger Landes is among the first to play is as a lead. The ex-Scartaglen instrumentalist plays the mandolin's big brother as a piper or fiddler would - with all the traditional decoration and drive as the ensembles' lead voice. Not an easy feat if you consider its cable-thick strings and the greater physical effort required to play it. Among the renowned peers joining Landes are John Whelen (accordion), Zan McLeod (guitar), and former bandmates Mike Dugger (fiddle), Chris Grotewohl (banjo), and vocalist Connie Dover. Together, they scintillate through a rousing set of traditionals and modern traditionals that makes this self-produced gem rival anything heard on a major label. With its flawless production that lets you hear each part intimately, Dragon Reels has the trappings of a Celtic cult record.
---
By Tim Hoke (Greenman)
"So why a dragon?" I wondered. There isn't any track entitled "Dragon Reels." The music is draconian, and certainly isn't draggin'. More on that anon. After several years as a member of Scartaglen, and as an accompanist for various artists, Dragon Reels is the first solo release by Roger Landes.
Landes specializes in playing the Irish bouzouki, a modern instrument rather loosely derived from a Greek original. Landes has researched the background of his chosen instrument -- the liner notes include an essay by him, explaining the history and evolution of the Irish bouzouki. Those unfamiliar with the instrument will learn from reading the essay, and even those with some knowledge of it should pick up some new information. There's also another interesting essay by Dr. Chris Smith (who, sadly, isn't heard on the disc) on the growth of Celtic music into a global tradition.
But what about the music? The bouzouki, of course, often takes the lead. It's dark, meaty tone propels the tunes, punchy, but capable of delicate ornamentation. Landes also demonstrates his skills as an accompanist, playing bassy ostinato patterns behind Connie Dover's voice on "The Devil And The Farmer's Wife." John Whelan's sprightly accordion often shares the melodic duties. Mike Dugger plays some smooth fiddle on "Sarsfield's March," but on other tracks the fiddle is barely audible over the accordion. As an added treat, Chris Grotewohl brings his unique banjo style to three of the cuts.
Zan McLeod's guitar rhythms anchor the arrangements. I don't find any flaw in McLeod's guitaring, but he is also a bouzouki player of some renown, and that isn't heard here. I can only imagine a bouzouki duet featuring Landes and McLeod. Oh well, it's something to consider for the next album. Also notable are Bob Burn's lyrical bass playing on a few tracks, and Joe Root's rollicking piano on "Jerry Holland Set." Sir Angus McGarrish enhances a couple of selections with his eerie slide pipes, which sound suspiciously like a steel guitar.
Although his bouzouki is featured, Landes also shows off his abilities on guitar and mandolin. The latter is heard on one cut, biting, with jazzy passages. He plays guitar on two tracks: a set of reels played as cleanly as any bluegrass flatpicker, and an expressive slow air.
Overall, good music with no bum tracks. This is especially recommended for anyone interested in the bouzouki/cittern family of instruments.
And why a dragon? Well, it appears that Dragon Reels is an anagram of Roger Landes.
---
By Jeff Brown (PitchWeekly, Issue 471, May 22, 1997)
The ten-stringed Greek instrument known as the Bouzouki in generally not associated with traditional Irish and Scottish music. You're more apt to hear it in a Greek restaurant that an Irish pub. Yet area musician Roger Landes, working off the inspiration of a few groundbreaking Irish musicians, has adopted it as his instrument of choice on Dragon Reels, and it's amazing what he can do with it. The Bouzouki's warm but biting tone falls somewhere between the guitar and a mandolin. In Landes' skillful hands it sings as a lead instrument or provides a hearty backbone when supporting others.
Dragon Reels was recorded in Nashville by Grammy Award-winning producer Bil VornDick, who has worked with Alison Krauss and Bela Fleck, to name a couple. It is Landes' first solo recording, though he was previously heard frequently as a member of Scartaglen, a rather successful area Celtic folk group. He brought along fellow Scartaglen member Connie Dover to sing on the excellent "The Devil and the Farmer's Wife," and she contributes piano on several other numbers. But Dover is not the only musician who helps Landes on the record. John Whelen's accordion and Zan McLeod's extra guitars add immeasurable depth to Dragon Reels.
The arrangements of traditional and contemporary songs also show further hints of Landes' prowess, as do his own two originals. As it is, the musicians led by Landes spin through some interesting music with joyful abandon and obvious skill, resulting in a record that will equally reward the serious folk fan and first-time listener.
---
By octogreg (thesession.org, posted on Friday, May 23rd 2003)
Roger Landes, ace citternist and founder of Zoukfest, is joined by John Whelan (accordion), Zan McLeod (guitar) and several others in this fabulous debut recording which highlights the cittern as lead melody instrument. Roger's command of the instrument is breath-taking and his interpretation of Jerry Holland's set to close the album may just be even more exciting than the original. Very interesting and informative booklet included which outlines the history of the bouzouki from ancient times to its present rebirth in Irish music.
---
From English mandolin virtuoso Simon Mayor
It's everything I suspected it would be - great playing and an impeccable sound. You've got a great feel for Irish style decoration, superbly executed triplets. I'm really very impressed by the whole thing. You quite clearly do make the bouzouki work as a lead instrument - I can't see how anyone could question that once they've heard the CD.
---
From Dan Beimborn, ed. CelticMusic.com
...his 'Dragon Reels' recording is one of the best I've heard in years.
---
From Han Speek, ed. Han's Irish Bouzouki Web Page
[Dragon Reels] is a great showcase of the instrument's potential. But an instrument doesn't get far without its player, so this album is of course also a display of what Roger is capable of as a musician, both as bouzouki/guitar/mandolin player and as arranger of the tunes... into interesting and often surprising sets, combining old with new, Irish with Scottish, slow with fast. The result is a fascinating album that will impress and delight many people, whether they like Celtic music or not.
---
From listeners
Just a few recommendations about recent music I have enjoyed very much. Dragon Reels; congratulations Roger Landes this is superb and about time too. It is a great collection of tunes, played with great spirit, and with a very 'live' sound.
* * *
I ordered your CD and got it in the mail yesterday. I'm really impressed. Most Celtic CDs by American artists lack something - I've always felt that you have to be from Ireland or Scotland to really play the tunes with soul and spirit. But this CD is the exception. Wonderful playing - great tunes - great guests. Thanks.
* * *
I bought his CD and was blown away by it. Where has this guy been hiding?
Back to Top

Other (Production & Arranging)
Praise for Chris Grotewohl's "Under the Influence," produced and arranged by Roger Landes:
"The bouzouki playing of Roger Landes is magnetic and soulful." - John Bullard, Banjo Newsletter
"...highly accomplished and energetic bouzouki of Roger Landes." - Irish Music Magazine
"...wonderful bouzouki/guitar playing is contributed by producer Roger Landes." - Cliff McGann, Celtic Heritage Magazine
Back to Top

Radio Interview (from the "Art of the Song" program)
A great interview with Roger. CD-quality audio file in MP3 format, approximately 31 minutes, 35 MB. Download